Stirling Sunday Night Hockey League !!!
The Stirling Peter Puck Hockey League is a recreational men's hockey league that runs out of the Stirling District Recreation Centre in Stirling-Rawdon, Ontario. Home of the Stirling Blues. The minimum age for playing in the league is 30 years old.
The league has been running since 1973. Currently there are 84 players on 6 teams. The league holds a draft every year. Once you are in the league you hold your spot for the following year. Those wanting to get in will need to put their name on the waiting list. You can add your name to our waiting list by visiting the Register page.
The playoffs begin in the month of March. All teams make the playoffs. The top three teams play the bottom three teams from the regular season standings in a three game round robin. This eliminates two of the teams. The year wraps up with the four remaining teams playing an single game elimination tournament.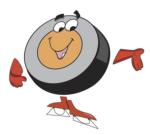 The league was named after the Peter Puck cartoon character who first appeared on Hockey Night in Canada the same year this league started. The character retired in 1980 but this league has lived on.
The rights to the Peter Puck cartoon is owned by Brian McFarlane. He was a Canadian hockey colour commentator for 27 years and Hockey Hall of Fame Media Honouree (1995).
McFarlane purchased the rights for the cartoon character from Hanna-Barbera who was the annimation company who created it with much input from McFarlane. You can still purchase his Peter Puck books. Click Here to see what is available.